"We are a plague on Earth."
David Attenborough
In 2013 renowned British naturalist and TV presenter, David Attenborough made a statement to the Radio Times, regarding his thoughts on what will happen if we do not change our current path and adopt a more sustainable lifestyle and control our population.
It took many thousands of years for the world population to reach the mark of 1 billion humans. It grew sevenfold in the past 200 years or so. In 2011, we reached the 7 billion mark, and we added half a billion more since then.
Today (2017) it stands at about 7.5 billion.

Conservative estimates suggest that the world population will grow to nearly 10 billion by the middle of this century. And more than half of the population will live in an urban environment. This presents a key challenge for mankind, How to keep improving the way we live and manage such a large population? We need to adopt a more diverse decentralized circular economy that stimulates local production and consumption, instead of the current model, in which resources are extracted/mined/grown, manufactured, transported and then used before being disposed of at the end of the value chain.
Added to the overwhelming numbers the fact is that economic and social inequality is growing within and among nations. People starve every day while others waste a considerable amount of food.
This planet we live on is a finite space with finite resources. We need to learn how to manage these resources. Making sustainable development a priority for securing a future for coming generations.
Fertility rate drops:
Globally, over the past decades, fertility rates have been falling in most of the world, with some exceptions, particularly among the least developed countries. This means that pressures are mounting in the world's poorest countries. But it also means that the rate of increment in the world population we've experienced is leveling off.
The decrease in fertility rates is attributed to different factors all around the world. It can be a consequence of social factors like late marriage and not marry, as in Ireland. Change in policies like China's one-child policy. More accessible information and birth control methods as in all the western countries. To more complex economic and social factors all around the world.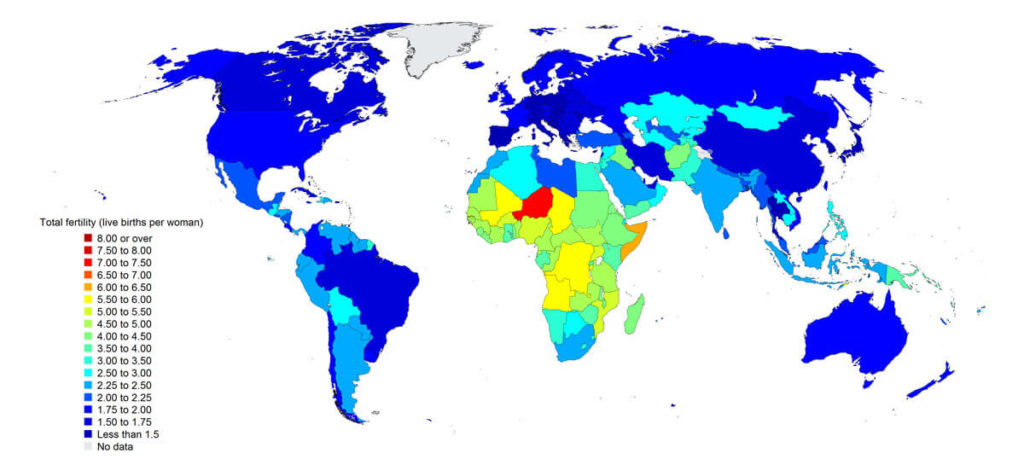 The challenge of a low fertility rate
Some developed countries like Japan, face another type of problem due to its low fertility rate, an aging population. Today the amount of people over 64 years amounts to a quarter of the entire population. In Tokyo, there are twice as many job vacancies as there are people to fill them. In response, the government has tried to boost low fertility rates, give more support for working mothers and even softening their traditional dislike to immigration.
A trend that is also accelerating worldwide, the proportion of global population aged 60 years or older increased from 8.5 percent in 1980 to 12.7 percent in 2017.
The world population explosion of the last 200 years has consequences we now have to face. New challenges threaten our current economic and political stability that needs to be resolved in an inclusive and ingenious way.
Securing the future wellbeing of citizens around the world will need innovative actions that transcend nations and economic interests.